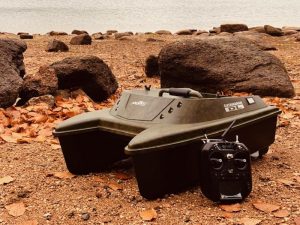 A very buoyant boat that sites well above the waterline making it perfect for those choppy waters and to see at a distance. Six super bright white LED's on the front of the boat produce enough light to easily see where the boat is and where you're dropping your bait at night. All lights are controlled from the remote handset so you can save battery life when on the run out to your spot, two 10mm red LED lights on the rear of the boat to enable you to see exactly where the boat is.
If you need to do any self-maintenance work on the bank, the main boat lid removes in seconds, giving you plenty of room to work.
The rear line dropper is designed for dropping your rig away from the main bait, but you can still place the rig inside the hopper to drop the rig with the bait.
It is powered by two 6volt 12amp lead-acid batteries, allowing it to run continuously for 2+ hours.
Key Features:
New LED Battery Display on the lid of the boat
Dual Independent Hoppers
Rear Line Dropper for your rig
Digital Powerful 2.4ghz Radio Gear meaning no interference and working range over 500 meters
You're able to remove the boat lid in just a few seconds which exposes all internal parts, great for self-maintenance
Twin, powerful motors make this boat one of the fastest
Also available with brushless motors and lithium batteries. This boat weighs less and goes much faster.